IT Staff Augmentation
Outsourcing IT Support Staff for Small Business
Outsourcing IT Support for Your Small to Midsize Business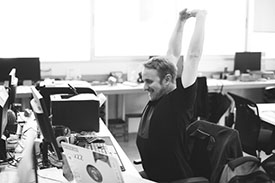 Your company is growing and you see an increasing need for a viable small business IT support solution. But maybe hiring full-time computer support just isn't an option right now.
But there's a better way. Hiring – or more specifically; outsourcing a network maintenance or IT support company that charges a flat monthly fee can give you peace of mind and increase your bottom line.
5 Benefits of Outsourcing Computer Network Support
Outsourcing computer network support can boost growth and cut costs. TCom's Proactive Network Maintenance Program provides your small business with routine, scheduled maintenance, and problem identification and resolution for one flat monthly fee.
Check out these five key benefits of flat rate IT support:
INCREASE EFFICIENCY. By outsourcing IT to a third party expert, you and your team can focus on core business operations – the activities that directly affect your bottom line. You won't have to rely on a staff member who's "good with computers" to attempt to resolve a problem, possibly making a small issue into a serious and costly one. If your network does suffer a technical hiccup, our TCom Technicians can resolve it with little or no downtime, so you can get back to business.
LEVEL THE PLAYING FIELD. By outsourcing your computer network support, you'll have access to enterprise level talent and expertise just like the big guys. When you invest in top-tier IT expertise, you give your company a competitive edge that you wouldn't have otherwise.
STAY UPDATED ON LATEST TECH TRENDS. Technology is in a constant state of rapid change. At TCom, we're in the business of staying on top of the latest trends in technology and efficient small business IT support. You'll always have access to the latest technology and methods so you can keep that competitive edge as sharp as possible.
GREATER COST CONTROL. You might have been hesitant to look into hiring a network maintenance company because you're concerned about the possible costs. With TCom's Proactive Network Maintenance Program, you'll always know the cost with no surprises. That's because we base your flat monthly fee on your company's specific needs. The cost won't change unless your needs do.
GREATER FLEXIBILITY. You never have to let lack of technical experience stop you from accepting a new business opportunity. If your technology needs suddenly change due to rapid growth or a new endeavor, the TCom team has the expertise and experience to rapidly accommodate these additional needs.
We'd Like to Hear From You