IT Governance/Compliance Services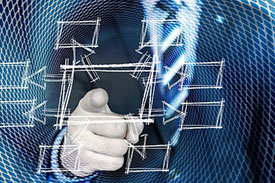 The IT governance and compliance needs of businesses vary widely. For small companies, IT governance often is an informal process for the proper management and maintenance of IT services that support the business. For larger companies and enterprises, IT governance is a framework – a significant set of policies, procedures, and controls that is applied to technology across the organization to enforce corporate standards and assure regulatory compliance.
TCom Networks is a critical partner for your IT governance and compliance needs. We can help identify which framework is best for your needs and assess, create, and maintain these procedures for companies of all sizes, whether yours is a small business or a highly regulated public enterprise.
Crossing your "Ts" and Dotting your "Is"
A governance framework helps you define and enact standards for processes such as disaster recovery, business continuity, online backup, and business resumption processes. There literally are dozens of IT governance frameworks that companies can follow based upon their size, industry, and regulations, including the most common: CoBit, ITiL, and ISO 27001.
Regulatory compliance generally drives which governance framework you need to follow.
The most common compliance standards include:
Sarbanes-Oxley
SSAE 16 (Formerly SAS 70)
HIPAA
Gramm-Leach-Bliley
Data Privacy Laws and Regulations
TCom Networks experienced and certified professionals can support any framework, and help ensure that you are that you are following that framework's specific policies, procedures, and documentation to the letter.
Your IT governance framework helps ensure that you are compliant with the specific regulations that apply to your organization and your industry. TCom's technical experts can help you establish and enforce governance of the technologies across your organization, including:
Border security
Change control management
Threat management
Business continuity
Data leak protection
We'd Like to Hear From You
A Reliable Partner
Regardless of your company size, industry, or the framework and compliance standards that you follow, TCom can help you with your IT governance and compliance needs.